Do not display last user name Windows setting (dontdisplaylastusername)
Do not display last user name Windows setting (dontdisplaylastusername)

The dontdisplaylastusername is a very handy setting if you want to improve the security of your computer. Setting the Do not display last user name setting removes any user account names from the Windows logon welcome screen and forces you to enter not only your password but also your user name when logging in.
Do not display last user name
The Do not display last user name is part of so-called interactive logon and is the suggested configuration especially in mobility computers and corporate setting because it makes it harder for any potential intruder to guess your login name and to get into your computer. Remember, if a hacker has your login name, he has 50% of the information that he or she needs to get into your computer. If you hide it, you make his or her job harder.
Ctrl+Alt+Del logon screen enabled but still getting the logon icon
The dontdisplaylastusername is also a "required" (or very strongly suggested) setting if you want to use the Ctrl+Alt+Delete logon screen as a welcome screen to your computer.
If you enable the Ctrl+Alt+Delete welcome screen on your computer and have the dontdisplaylastusername configuration setting disabled, you will be able to log into your computer by hitting the Control-Alt-Delete key combination, but you will also be presented with the logon icon and also with the visibility of the last logged user. This is not very good.
In other words, if you wish to strengthen the security of your computer further, it is a good idea to disable the icons with the names of existing users at the login screen and rather force the user to manually type or fill in his or her user name each time he or she logs in.
Dontdisplaylastusername in policy editor...
One way to set this up in Windows Vista is via a local or a group policy setting. You can modify policies applicable to you or your computer using the Group Policy Editor or your Security Policy Editor.
To make the change, go to your Start menu, click Run, type gpedit.msc or secpol.msc and hit ENTER. Then navigate to the path shown in the picture below.
You can see the dontdisplaylastusername setting on the picture below.
Right click the Interactive logon: Do not display last user name item, select Properties, and then enable.
Dontdisplaylastusername registry setting...
In case using a policy editor is not an option for you, you can also access this configuration setting directly in registry. After all, a policy editor is only an admin interface for making changes to registry values.
You can set up the Do not display last user name by modifying one setting in your registry. Open the Registry Editor by going to your Start menu, clicking Run, typing regedit and hitting ENTER. Then locate the following registry entry:
HKEY_LOCAL_MACHINE\Software\Microsoft\Windows\CurrentVersion\Policies\System
Change the value of the dontdisplaylastusername keyword to 1. You can see the dontdisplaylastusername setting on the picture below.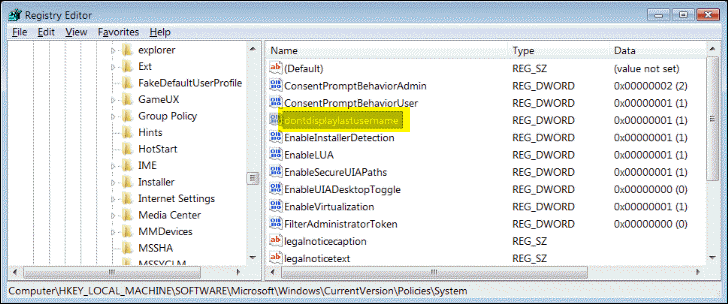 The next time you log into your computer, you will not see the User Picture Icon anymore, and you will have to fill in both your password as well as you user name into the Windows Vista logon text fields.
dontdisplaylastusername does not work!
Should you have any questions about dontdisplaylastusername or about anything on this page, we encourage you to visit our discussion forum where you can discuss any questions you have.
By the way, feel free to explore the following articles and tips:
Snap-in failed to initialize
Enable Ctrl+Alt+Delete logon screen
How to disable autorun autoplay
How to disable Task Manager
These resources can have some useful information about dontdisplaylastusername too.
.
Discuss this article or this topic in our discussion
f

orum
:
(The table bellow shows a list of 8 most recent topics posted in our
discussion forum
. Visit our discussion forum to see more. It is possible the links below are not related to this page, but you can be certain you will find related posts in the discussion forum. You can post one yourself too.)
Email this article to a friend:
.
How can I link to this web page?
It is easy, just include the code provided below into your HTML code.