2012 IL 1040 form
2012 IL 1040 form

The 2012 IL 1040 form is a tax form provided by the Illinois Department of Revenue and used by Illinois tax payers to report their income and to calculate their Illinois income tax.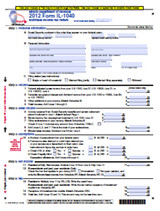 The 2012 form IL 1040 is also called the Illinois Individual Income Tax Return. The 2012 IL 1040 tax form is available from the Illinois Department of Revenue website (see the link below) in a form of a fillable (fill-in) PDF document.
When to use the 2012 IL 1040 form
The 2012 IL 1040 form is used to calculate your tax liability on your income that you have generated in year 2012. Use the 2012 form IL 1040 to calculate your Illinois income tax on your tax return that you file by the tax due date in April 2013. In case you are looking for the IL 1040 form that you use to report your income generated in 2011 (April 2012 tax return), see here 2011 IL 1040 form.
Availability of the IL 1040 2012 form
The
IL 1040 2012 form
requires to be approved by the legislative process of the Illinois Department of Revenue which should be completed in the second half of 2012. The
2012 IL 1040
form should be available in the second half of year 2012.
Rounding rules, extensions, schedules, when and how to file
All these topics have been discussed on the 2010 IL 1040 form page.
.
Discuss this article or this topic in our discussion
f

orum
:
(The table bellow shows a list of 8 most recent topics posted in our
discussion forum
. Visit our discussion forum to see more. It is possible the links below are not related to this page, but you can be certain you will find related posts in the discussion forum. You can post one yourself too.)
Email this article to a friend:
.
How can I link to this web page?
It is easy, just include the code provided below into your HTML code.