ExpressCard
ExpressCard

ExpressCard is a new standard for expansion of notebook computers. ExpressCard is a relatively low-cost solution to laptop modularity. ExpressCards are also smaller than traditional PC cards. ExpressCards are used to attach memory, multimedia, wired and wireless communications, security keys, and other features to your laptop.
ExpressCard is a hardware standard replacing old known PC (or PCMCIA) cards. ExpressCard was developed by the Personal Computer Memory Card International Association (PCMCIA).
What can I use ExpressCard for?
ExpressCard offers a smaller and faster alternative to current PCMCIA card. ExpressCard is used to connect various devices to your laptop and expand its functionality.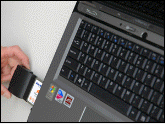 You can use ExpressCard to obtain connectivity for the following devices:
Bluetooth (cell phone, blackberry, ipod connectivity)
GPRS WAN (wireless broadband)
802.11a/b/g and 802.16 WLAN (wireless internet)
Security (hardware keys)
Flash memory (memory sticks, flash drives, SD cards, etc.)
Rotating storage (serial ATA drives, external harddrives)
Television and radio tuners
Here you can see a few examples of what a ExpressCard look like: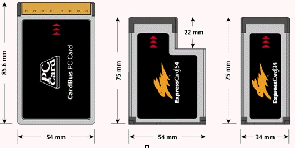 ExpressCard is probably going to stay around for some time, and any new devices that come on the market are expected to support this standard.
What are the benefits of ExpressCard (why is it better than PCMCIA)?
The ExpressCard standard can be seen as the next generation of personal computing devices. It is a plug-in I/O device the same way like PCMCIA cards but more advanced. 
There are at least four benefits associated with using ExpressCard:
Easy installation: The ExpressCard supports the plug'n'play standard which means automatic installation and also auto-configuration. You just slide it into your laptop's bay, and it is good to go.
Hot swappable: When attaching ExpressCard to your laptop, there is no need to power down your system. You can easily move ExpressCard modules between different ExpressCard-compliant notebook computers. Modules automatically configure the necessary software.
Smaller size: ExpressCard modules (the 34-pin ones) are roughly half the size and lighter than the old PCMCIA cards.
Improved performance: ExpressCard modules support USB, Gigabit Ethernet, SATA (external hard disks), 1394b (FireWire) devices, SSD (solid-state drives, flash drive), TV tuners, and other devices and therefore also the speeds at which they transfer data. ExpressCard is a faster standard. ExpressCards utilize either the high-speed USB 2.0 or PCI Express serial interfaces which allows them to offer roughly 2.5x higher performance than PCMCIA cards.
As with most new things, ExpressCards are unfortunately more expensive than traditional PCMCIA cards, but that will surely change with time.
How does ExpressCard work?
ExpressCard works in a way that you just slide it into your ExpressCard bay on the side of your laptop, wait a little while for the auto-configuration to take place, and you are good to go.
ExpressCard modules come in the following two widths
34 mm
and
54 mm
.
Both ExpressCard/34 and ExpressCard/54 employ the same connector which is 34 mm wide. The difference is that the ExpressCard/54 card is L-shaped and widens past the connector. Standard cards are 75 mm long and 5 mm thick in the section that slide into your laptop bay.
The ExpressCard/34 card firs into both 34 mm and 54 mm card slots via a diagonal guide in the rear of the 54 mm slot that guides the card to the connector. The 54 mm card will only fit in a 54 mm slot.
How do I know my device is ExpressCard compliant?
When purchasing a device that you want to work with your laptop, look for the logo as shown below:

ExpressCard modules displaying this logo are required to go through a compliance program. This logo signifies that the product has passed the ExpressCard Compliance Program.
ExpressCard statistics
Although ExpressCard from various manufacturers differ, here is some interesting statistics about one. Did you know that the connector is gold plated? Did you know that it is designed to survive 10,000 slides into your laptop and will probably burst if you heat it too much?
Contact Area: .000762mm (30u) gold over nickel
Solder Tail: .00508mm (200u) tin/lead over nickel
Insertion Force: 39 N maximum
Removal Force: 4.5 N minimum, 18.5 N maximum
Durability Rating (Mating and Un-mating): 10,000 cycles
Maximum Operating Temperature: 105°C
What else should I read about?
ExpressCard is a relatively new product. If you like to read about new products, you might be interested in LightScribe or USB 3.0 (Need for speed).
.
Discuss this article or this topic in our discussion
f

orum
:
(The table bellow shows a list of 8 most recent topics posted in our
discussion forum
. Visit our discussion forum to see more. It is possible the links below are not related to this page, but you can be certain you will find related posts in the discussion forum. You can post one yourself too.)
Email this article to a friend:
.
How can I link to this web page?
It is easy, just include the code provided below into your HTML code.