Hide network name SSID - access point configuration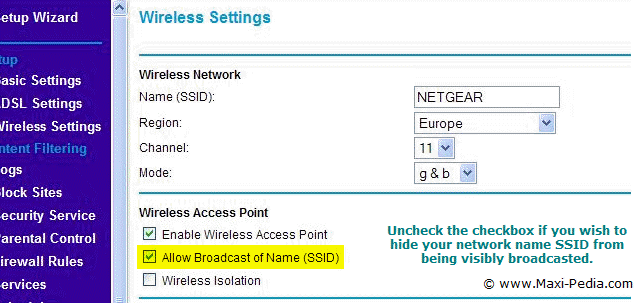 You can configure your wireless access point to hide your network ID or name from being visibly broadcasted. Uncheck the checkbox and reboot your router. You can find out more about other wireless security measures on the following page: Secure your WLAN (wireless security tutorial - part 4).
.
Discuss this article or this topic in our discussion
f

orum
:
(The table bellow shows a list of 8 most recent topics posted in our
discussion forum
. Visit our discussion forum to see more. It is possible the links below are not related to this page, but you can be certain you will find related posts in the discussion forum. You can post one yourself too.)
Email this article to a friend:
.
How can I link to this web page?
It is easy, just include the code provided below into your HTML code.